22 maja 2016
PUK PUK! Tak tak, to my! Jeżeli myśleliście, że zdechliśmy, to się grubo pomyliliście <3 Działamy znacznie wolniej, ale wciąż do przodu!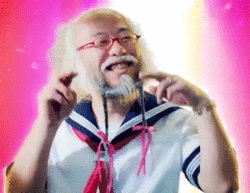 Niestety z wolnym czasem wciąż jest problem. Ja niedawno się dowiedziałam, że będę studiować za granicą, wiele osób z nas się hajta, robi inżyniera/magistra i po prostu mamy coraz mniej czasu na skanlacje.
Jeżeli chcielibyście częściej widzieć aktualki, to zapraszam do rekrutacji! Przyjmiemy każdą osobę, która wyrazi chęć nauki. Pomożemy, poradzimy i wykształcimy od A do Z, tylko zależy nam na kimś, kto nie zniechęci się po 2 dniach.
A teraz na osłodę dnia codziennego <3
Genkaku Picasso tom 2 rozdział 5
Genkaku Picasso tom 2 rozdział 6
Addolorato - oneshot PROJEKT ZAKOŃCZONY!
Alvis
Komentarze (3)